This weekend at Madison Square Garden, New York, unified middleweight world champion and pound-for-pound contender Gennady Golovkin faces what many people believe to be the toughest test of his career so far. The WBA super, WBC, IBF & IBO champion takes on mandatory challenger and WBA regular champ Daniel Jacobs in a really intriguing match-up.
Golovkin (36-0, 33 KO's) I'm sure needs no introduction. The 34-year old is considered by most as the most exciting fighter in the world right now. Not one man has managed to go the distance with him in his last 23 fights and his all action style has made him a hit with fans all around the world. Even if he is in complete control of a fight, he is never content to go 12 rounds and win on the cards, he wants to get the job done and take his opponent out. However, he isn't just an aggressive puncher – the Kazakhstani also has a solid set of skills and very good ring generalship. All this together makes him one of, if not THE hardest active fighter on the planet to beat in a ring right now.
Daniel 'Miracle Man' Jacobs (32-1, 29 KO's) is the next man to take on the GGG challenge and there are some people out there, including myself, that believe he does stand a genuine chance of beating Golovkin. The 30-year old has already beaten something much more devastating and scary than Golovkin – cancer! That's right, in May 2011 Jacobs was diagnosed with osteosarcoma, a life-threatening form of bone cancer. He was told by doctors that there was a chance he would never be able to walk again because a tumour had wrapped itself around his spine and left him partially paralyzed. But remarkably, just 17 months later he returned to the ring and began his journey to a world title.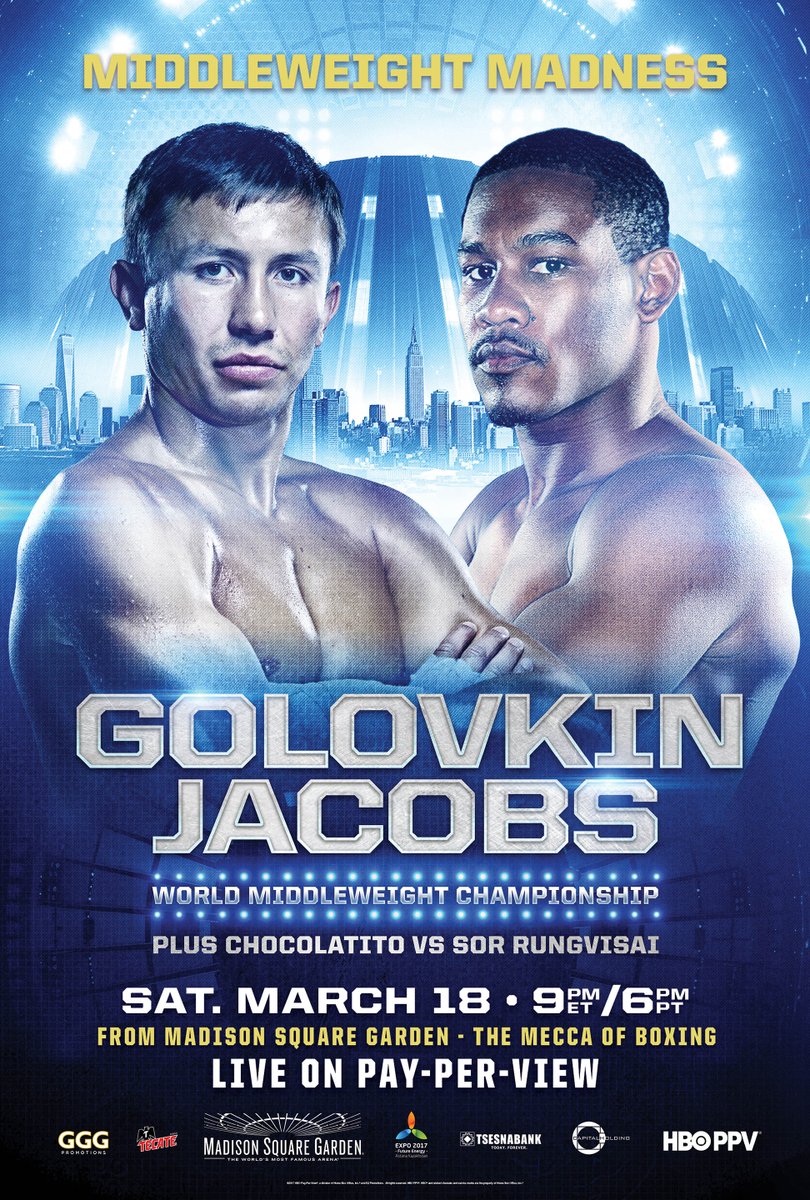 The Brooklynite seems to have come back stronger than ever since his illness too! He is unbeaten in his last 12 fights and also scored knock outs against each of those 12 opponents. Not only does Jacobs hit very hard, he can also box too and this is a necessity if you are going to beat a man like Golovkin. We saw Kell Brook out-box the Kazakhstani in the early stages back in September but he just didn't have the power to trouble him or keep him away. Jacobs, the bigger man with a longer reach, from what we've seen, should have heavy enough hands to at least keep Golovkin at bay – and that's what you need to do against him. There's no doubt at all that GGG has the ability, ring smarts, and power to stop any man in the division if you let him get in close and on top. So for Jacobs to be successful he has to do his best to keep the beast on the outside, by landing big power shots from long range. Whether this will be enough to deter Golovkin, I do not know.
For my prediction I still have to side with Golovkin for the sheer fact that he has knocked out his last 23 opponents with ease and never really looked like being in much trouble throughout his whole career. It's a record you just can't argue with. You could argue that he hasn't fought any real elite level fighters as of yet, but that's not necessarily his fault.
I expect to see Jacobs have success early on, probably winning the majority of the rounds in the first half of the fight. I don't think we'll see him in complete control of the fight but I think the American will do enough to enter the second half of the fight with a lead on the scorecards. However, if Golovkin can do what he's been used to doing, it should only be a matter of time before he catches up with him. It then depends how Jacobs reacts. Can he dig deep and mix it with Golovkin when the Kazakhstani gets going? Or will he crumble like the rest? That's something we will just have to wait to find out on the night.
The smart money is on another Golovkin KO but do not rule out an upset here!